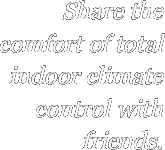 Personal, professional service
Earl's Heating core services include furnace cleaning and maintenance and water heater repairs. We install a full range of home comfort products – furnaces, air conditioners, heat recovery ventilators, boilers and water heaters.
When it comes time to purchase a new unit or system, we will visit your home, review all of the points that need to be considered and offer you a choice of options to fit your needs and budget. No charge. No obligation.
New technical innovations that improve efficiency, performance and reliability appear regularly on the market with a myriad of choices for today's consumer. Consult Earl's Heating for the expert information you need before deciding on any home comfort purchase.
Earl's Heating and Air Conditioning has been a family run business for over 25 years. We are a fully certified HVAC company.










© Earl's Heating and Air Conditioning