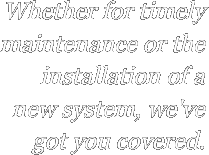 Providing quality workmanship at
affordable cost
Free Estimates
We offer 24-hour emergency service
We can help
Earl's Heating services include furnace cleaning and maintenance and water heater repairs. We install new furnaces, air conditioners, heat recovery ventilators, boilers and water heaters. For sales visits we show you the latest range of models available and explain the pros and cons of each to match your home and budget. We also perform repairs on units in or out of warranty and can set up regular maintenance calls.
Earl's Heating and Air Conditioning is a fully certified member of Professional HVAC Associations including the Canadian Oil Heat Association.
Just a phone call away
We serve from Meaford to Collingwood, Wasaga Beach and Stayner, and everywhere in between. Our service area also includes Creemore, Singhampton and Markdale.










© Earl's Heating and Air Conditioning