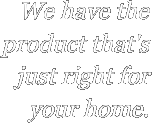 Quality home comfort products
We install home comfort products and systems that are built for quiet operation and long-lasting durability. You get the benefit of the latest technology and a heritage of quality in systems that deliver maximum comfort to your home. For Gas or Propane click here to compare available choices amongst the KeepRite furnaces and air conditioners that we install – from best value products to the top-of-the-line. For oil furnaces, tanks or water heaters, we would be happy to provide you with the latest information on available products.
Want to learn more about choices you will want to consider before upgrading your home heating or air conditioning systems? Click here
Earl's heating and air conditioning offer you Free, no obligation consultations. Trust Earl to guide you through the often complex process of determining the very best choice for your home and budget. Call today!
Expert installation
As important as choosing the right product, is having the entire system properly integrated and installed by fully experienced, caring professionals. With Earl's Heating, it's all in the family!
Call or email for an estimate! 519-599-2108 or 705-444-9229










© Earl's Heating and Air Conditioning